Regular price
$529.00 USD
Regular price
Sale price
$529.00 USD
Unit price
per
Sale
Sold out
Large detection range
Lynx has a detection area of ​​250 x 400 mm, which makes the size of its scanning area an unbeatable 200% higher than other medium format scanners on the market. Objects of up to 5000 x 5000 x 5000 mm can be captured with this unique 3D scanner.
Features for a smooth scanning experience
Thanks to an optical stabiliser and advanced visual tracking, even large objects are scanned without any problems. The likelihood of misalignment is minimised and a smooth scanning experience is ensured.
Precision and attention to detail for projects of all kinds
Lynx scans medium to large objects with ease and in all its facets. Its accuracy of 0.10 mm and a resolution of 0.30 mm is reflected in highly detailed point clouds. Such precise object reproduction is valued both in art and design (sculptures, human bodies) and in industrial manufacturing (furniture, car parts).
Fast and reliable
Lynx scans at a speed of up to 2,000,000 captured points per second. The scan results are displayed visually in no time.
Automatic model generation
Using efficient software algorithms and easy-to-use PC hardware, scanning is easier than ever.
The JMStudio scanning software, developed specifically for 3DMakerpro, supports Windows and MacOS, but is also compatible with iOS and Android devices. For connectivity with your smartphone, you need the optional Connect accessory, which makes Lynx usable on the go. This means you can easily capture objects on your way to work or home.
Thanks to a built-in automated one-click editing function, your scanned projects will always be a success story!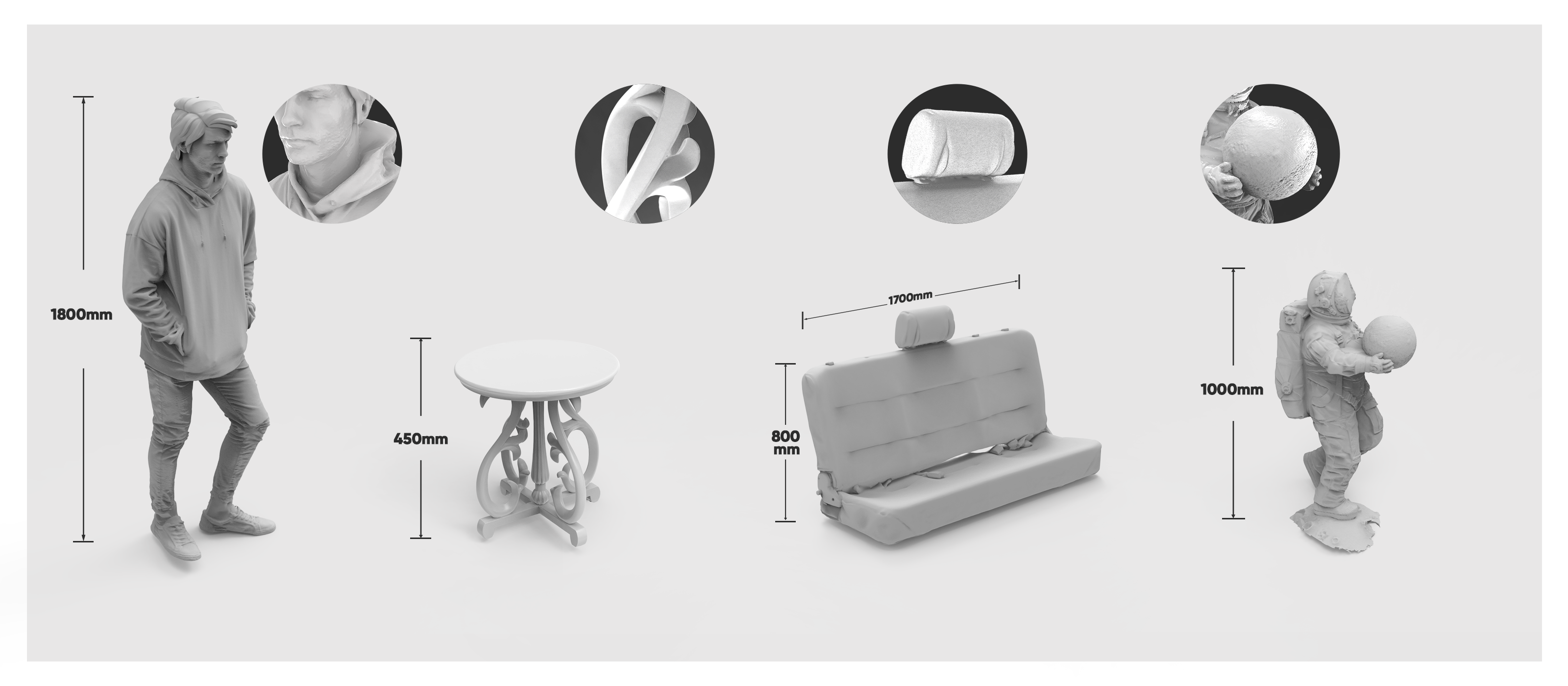 Different scanning modes for different needs
Lynx is equipped with different scanning modes to suit all your scanning needs. There are 4 scanning modes available to you:
Turntable mode,
Handheld mode,
Mobile mode (only in conjunction with Connect),
Colour texture mapping mode (in combination with Luxury Combo).
Included in delivery of the Lynx standard:
1 x Lynx 3D Scanner
1 x Power Cord
1 x Data Cable
Included in delivery of the Lynx Premium:
1 x Lynx 3D Scanner
1 x Power Cord
1 x Data Cable
1 x tripod
1 x Turntable Kit
Included in delivery of theLynx Luxury:
1 x Lynx 3D Scanner
1 x Power Cord
1 x Data Cable
1 x tripod
1 x Turntable Kit
1 x Colour Kit
Share
View full details